GOLDEN TICKET GIVEAWAY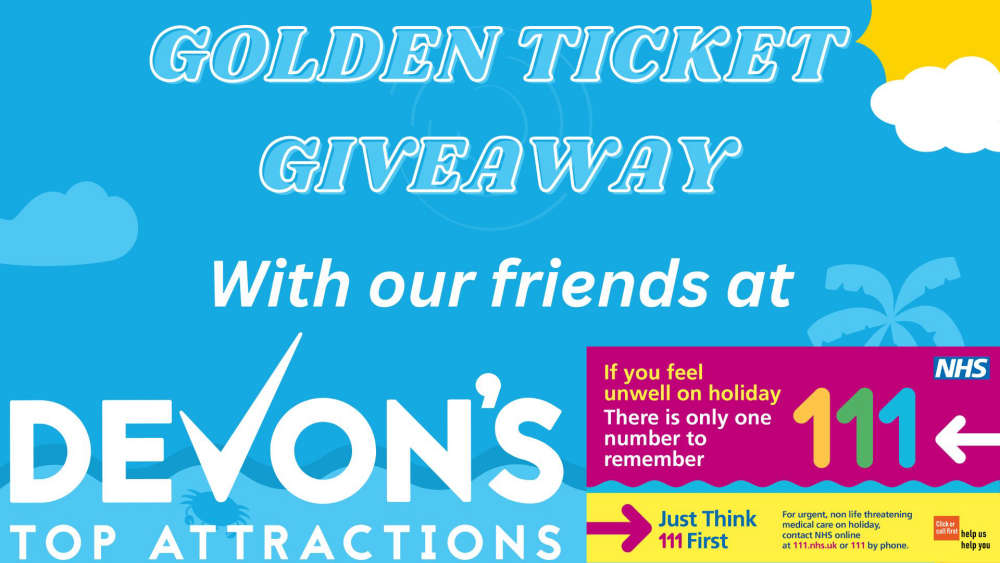 We have teamed up with the NHS and www.devonstopattractions.co.uk
To give you the chance to win tickets every day to various attractions across Devon, this can be from soft play, to train rides through to festivals.
But one lucky winner will win Devons Top Attractions Golden Ticket.
This has a prize value of over £1,500 and 12 months to use it.
A Golden Ticket allows FREE entry for up to four people for one visit to all the attractions listed on the ticket and its valid for a whole year from date of issue. Over 35 attractions are listed on the Golden Ticket that can be visited.
Golden Ticket Terms https://www.devonstopattractions.co.uk/terms-conditions/
Exclusions exist https://www.devonstopattractions.co.uk/exclusions/
So how do you win - listen each weekday between 7 and 11am we will be playing the Trigger Track this is the cue for listeners to text in for a chance to win tickets.
So hear the song - text in to 66777 start your message with "VOICE" then your name and THANKS NHS for your chance to win. One lucky winner will be drawn each day and we will open the prize for that day.
This will start 17th July and run until 31st August. The trigger track for the next day will be announced in Drivetime with Emma - then listen to The New Breakfast Show with Laura James from 7am each weekday for us to play the trigger track.
You could win tickets to any of these:
Let Go
Battlefield Live
Combe Martin Wildlife Park
Watermouth Castle
The Big Sheep Events - Martin Kemp Live
The Big Sheep Events 'From The Jam' Live
Dartington Crystal
Junglaroo
Scotts Cinema
Norse Axe Throwing
Plymouth Heritage
River Dart Country Park
The Voice Sessions @ The Big Sheep
South Devon Railway
Or THE GOLDEN TICKET
Our normal competition terms and conditions apply. Texts received after the end of the song will not be included in the draw. The competition is only played once per day.
Residents and visitors to Devon are being reminded that if they have an urgent health issue this summer they can access medical advice online or by phone 24 hours a day at NHS111. When you are injured or unwell it can be difficult to know where best to access help, especially outside normal working hours. NHS111 staff have the expertise to make that decision for you and advise you where to go, if needed, and what to do next. By contacting 111 first, either online or by phone, people will get quicker and safer access to NHS services when they need urgent care.