Ringo Bingo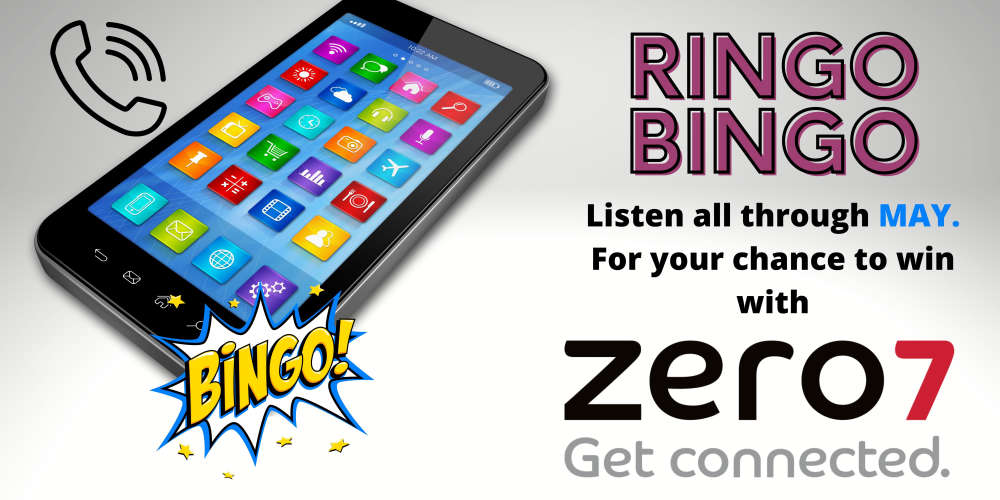 Throughout the month of May we will be playing Ringo Bingo.

Weekdays from 9am to 4pm (inc.) we'll start calling out numbers, the first number will be revealed after the 9am news, then hourly throughout the workday

If you hear a digit that forms part of your mobile telephone number, then cross it off

When we have called all numbers that make up a your mobile number, TEXT the word BINGO to 66777
The first text from a winning phone will WIN A CASH PRIZE!!

It's that simple!
Terms and Conditions
The mobile number you text from must be the one containing all the numbers so we can verify you have them all.
When we draw a number out, that number will be called and put back into the machine so the same number can be drawn more than once each day. If you have that number in your phone number you can cross it off as many times as it appears.
Once you have crossed all your numbers off you have 15 minutes to text us. After that time will will not accept texts until after the next number is drawn.
In the event of no one winning, the jackpot will be rolled over to the next day and the game started again.
The Voice (North Devon) CIC's decision is final
Cash prizes will be sent via cheque within 30 days. Or can be collected from our studios in cash 7 days after winning.
Cash prizes may vary throughout the month.
Texts are charged at your standard providers rate.